Alertas Tiempo Spain
Weather situation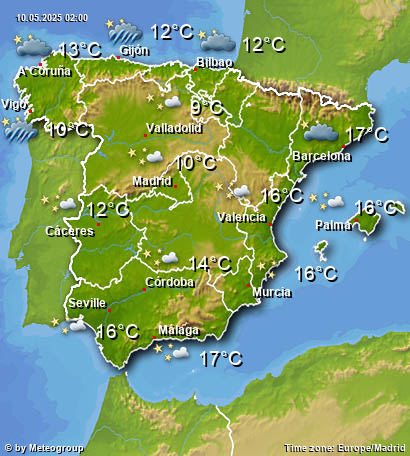 Barcelona - On Saturday we can expect fair weather.
The climate in Spain
Spain has a very diversified climate. The most significant differences can be found between northern and southern Spain.

In the north the climate is affected by the Atlantic Ocean with small variation of temperature in the course of the year. The winters are mild, the summers not too hot. The amount of precipitation is almost evenly spread over the year with focus on winter months. The north of Spain is wetter than the south with an average rainfall of 1600 litres per square meter. For comparison: In the dry areas of the south the annual amount of rainfall is only 300 to 600 litres per square meter. With 1600 to 2000 hours per year the sunshine duration is lower than in southern Spain.

In the central regions the climate is more continental. The variations of temperature are much higher here, both over the course of a day and over the whole year. In summer highs often reach 35 degrees or more, in winter frost occurs frequently. The main precipitation falls in winter, in summer dry periods are common.

The Mediterranean coasts and the Balearic Islands have a Mediterranean type of climate. Generally summers are hot, only sea breezes bring some cooling. The Mediterranean Sea is responsible for milder winters compared to the inland. Most precipitations occur in spring and autumn and the form of downpour or thundery shower.

Subtropical climate can be found on the Canary Islands. The average Temperatures lie between 18 and 24 degrees and the water temperature fluctuates onl between 22 degrees in summer to 19 degrees in winter. The Canary Islands are the sunniest region with approximately 3300 hours of sunshine per year. The trade wind dams up the clouds at the northeastern slopes of the mountains causing most of the rainfalls, while the southern and southwestern parts of the islands are arid. Thanks to trade wind the islands (especially Lanzarote and Fuerteventura) are a popular surfspot.

Mountain climate can be found in the Pyrenees, in Sistema Central and in Sierra Nevada. Between November and May snowfall is common here. The summers are pleasently cool.